Vanpowers City Vanture E-Bike Review – A lightweight single-gear electric bike which I love
 by James Smythe
Vanpowers City Vanture E-Bike Review Rating
Summary
The Vanpowers City Vanture is an outstanding e-bike and based on my personal requirements. It is by far the best e-bike I have reviewed. It is lightweight, low maintenance and the overall geometry and rides feel make this feel like riding a normal bike. I happily ride it without assistance and only switch it on when needed. The self-build design is easy to assemble, but I'd prefer not to have to do it, and the single-gear set-up may not be suitable for people in very hilly areas.
 

PROS

Incredibly lightweight bike at this price point
Looks and feels just like a normal hybrid bike
Low maintenance belt drive

CONS

Single gear won't be suitable for all scenarios
Even though the self build was easy, I'd prefer not to have to do it
I have reviewed several electric bikes this year, and they have all been excellent, with each one excelling at different things.
Recent reviews have included the Cyrusher XF900 750W fat tire bike as well as the Engwe Engine Pro 750W foldable. Both are capable of going faster than UK speed limits and provide incredibly smooth rides.
The ADO D300C e-bike has a more traditional mountain bike design and works well for mixed-use.
However, all these bikes are physically large and weigh a lot which doesn't really suit my personal preference.
For me, I want something that looks and feels like a normal bike that's enjoyable to ride without the electric assist but can give me that extra boost when needed.  
The Vanpowers City Vanture is the first review I have done that provides a close experience to a regular bike.
A belt-driven fixie with tenon-and-mortise self-build frame
The Vanpowers City Vanture is one of the most unique bikes I have reviewed. One of the main things about it is that the frame is not welded and instead uses a tenon-and-mortise structure that you need to assemble yourself.
Vanpowers claims this provides superior structural integrity due to the welds on a bike being the weak spot. It also allows Vanpowers to pack up the bike into a much smaller and easier-to-ship box, which I suspect is the main reason why they opted for this frame design. However, the frame design also allows the bike to work with a belt, as you need a split in the frame to fit the belt.
Then the bike is a fixie, having just one gear, and it is belt driven. The benefits of a belt-driven bike are that it requires significantly less maintenance. The belt doesn't rust or need lubrication, they are often regarded as maintenance-free and have become a popular option for people going on long tours for this exact reason.
It is claimed that a properly maintained belt drive can last 3-5 times as long as a chain drive. Some riders have gotten 20,000 miles (around 30,000 km) out of a single belt. Most chains only last 3000-5000 miles.
Of course, some people won't like the lack of gears, and if you live in a very hilly area, this may not be ideal for you.
However, I assume this single-speed belt-driven design helps Vanpowers keep the weight low. This is by far the lightest bike I have reviewed at just 15.5kg. That's about 50% heavier than my carbon frame road bike. It is 7kg lighter than the ADO D300C and less than half the weight of the 34 kg Cyrusher XF900!
Specification
| Colours | Shining Black, Infinite Silver, Neon Purple, Chalk Blue, Ruby |
| --- | --- |
| Assist Speed (US) | Up to 25 mph (40 km/h) (5 levels of assist) |
| Assist Speed (EU/UK) | Up to 15 mph (25 km/h) (5 levels of assist) |
| Net Weight | 34.17 lbs./15.5 kg |
| Mileage | 50–80 miles/80–130 km (with extra battery) |
| Charging Time | 2–3 Hours |
| Max Load | 120 kg |
| Motor | 36V 350W (US)/36V 250W (EU) |
| Battery | 36V 7Ah/252Wh LG Cell Lithium-Ion Downtube Battery |
| Sensor | Cadence Sensor |
| Display | IP66 Waterproof TFT Color LCD Display |
| Charger | 100V–240V/2A Smart Charger, US Standard or EU Standard |
| Frame | Aluminium Alloy. 21inch, 700C Wheel Size |
| Tires | 700C × 28C Kenda Tires |
| Rims | Aluminum Alloy Double-Wall |
| Front Fork | Rigid Front Fork Aluminum Alloy w/ Disc Mounting, Thru-Axle |
| Brakes | Tektro Hydraulic Disc Brakes |
| Handlebar | Promax Aluminum Alloy |
| Stem | Aluminum Alloy w/ Integrated Display |
| Brake Lever | Tektro HD-M285 |
| Belt | Gates CDN Belt Drive |
| Chain Wheel | Gates CDX |
| Front Hub | 3/8 × 13G × 36H Thru-Axle |
| Saddle | Brown Justek® Urban Saddle/Black Selle Royal® Saddle |
| Seat post | Promax Aluminum Alloy, 30.4 mm w/ Offset |
| Pedals | Wellgo |
Build
Depending on where you live, you can buy the Vanpowers either pre-built or assemble yourself. For UK buyers, it seems like you only have the option to assemble it yourself.
This seemed very intimidating. Prior to the review, I quickly skimmed over the assembly video, and I was a bit nervous about having to run all the wires through the frame. I previously had to open up the internals of the ADO D300C to fix the wiring, and it was a confusing mess of components that I wasn't keen on having to deal with again.
However, with the Vanpowers City Vanture, there is hardly any wiring you need to do. I think there was just one part of the frame that needed wires routing through it, and there were four cables that needed attaching. It was incredibly easy.
The build itself was also surprisingly easy. I get easily distracted, so I ended up building the main part of the frame and then coming back later. But I would guess it took me about 2 hours in total. Normally it takes 30 minutes or so just to finish off a pre-assembled bike.
In Use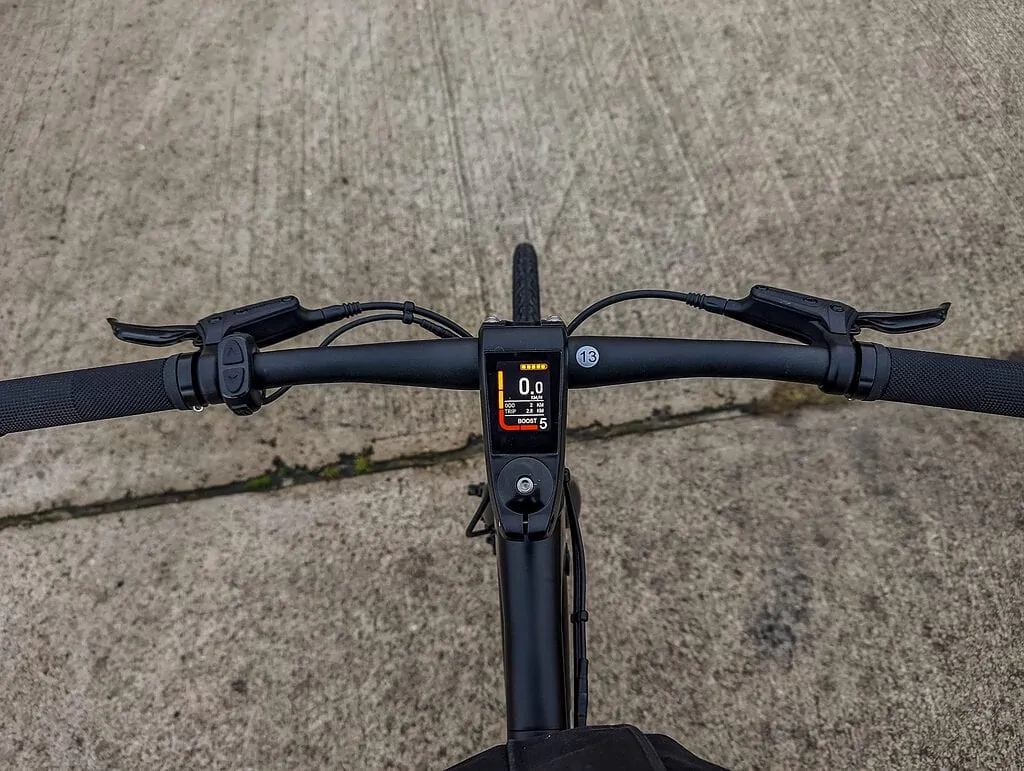 There is a lot to like about this bike. It is by far the best-looking electric bike I have reviewed. You can barely tell it is an electric bike, and this is quite important to me. I feel like it is less likely to be targeted by thieves if it looks normal.
The display is integrated into the cockpit, so you don't have an ugly computer sitting on your handles, and again, this makes it look more like a traditional bike.
At 15.5kg, this is much easier to pick up and move around than others, but you can feel that weight on the rear wheel. However, when you cycle, you don't really notice it.
This is the first time I have cycled on a belt-driven bike, and it is a pleasant experience. There is no noise to the drive train at all, and the bike overall has no annoying noises to it.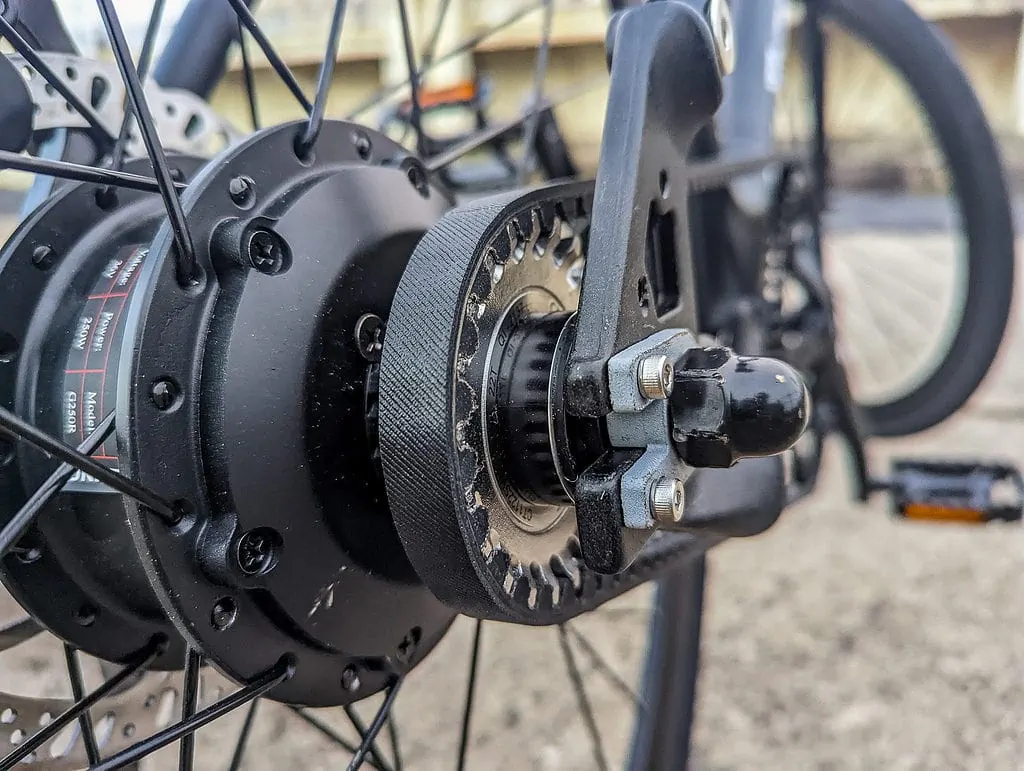 The electronics are controlled via a small controller on the left handlebar. There are just three buttons. The mode button is also used to switch on the bike, and then the up and down buttons.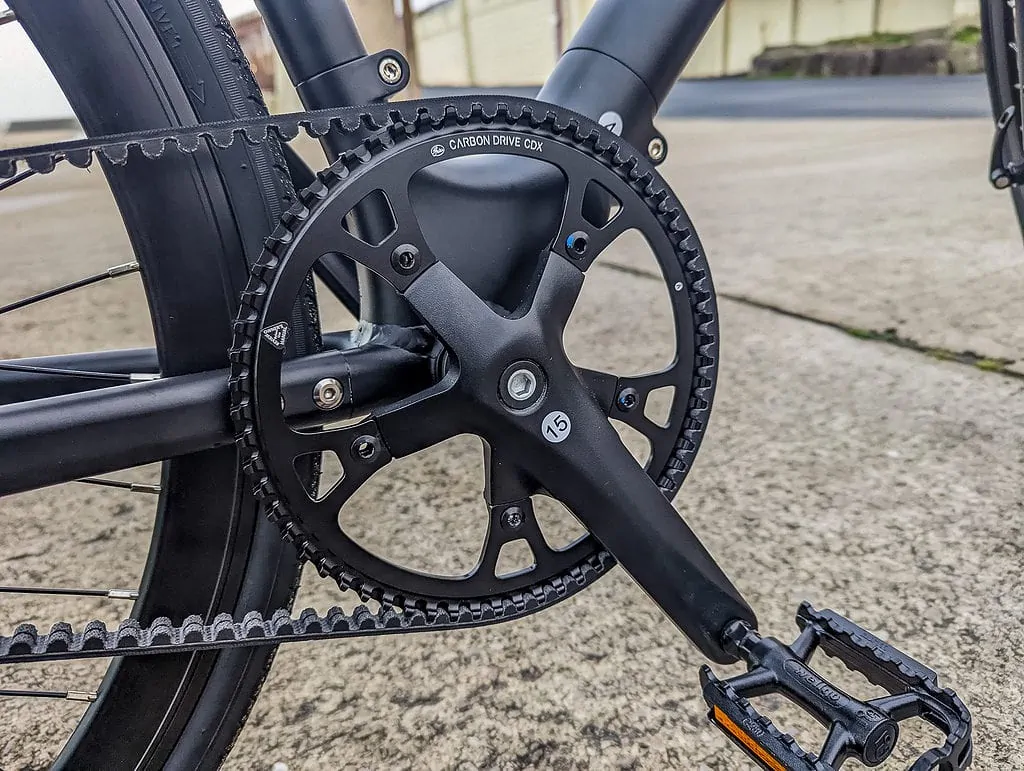 In the UK/EU there are 5 levels of power assist, and this goes up to the legal limit of 15 mph (25 km/h). US buyers also get 5 levels of assist, but they can go up to 25 mph (40 km/h).
Where I live, it is relatively flat, and I use a non-electric fixie to cycle to and from the gym or town. The biggest problem where I live is the wind, and it can be quite depressing cycling head-on into it.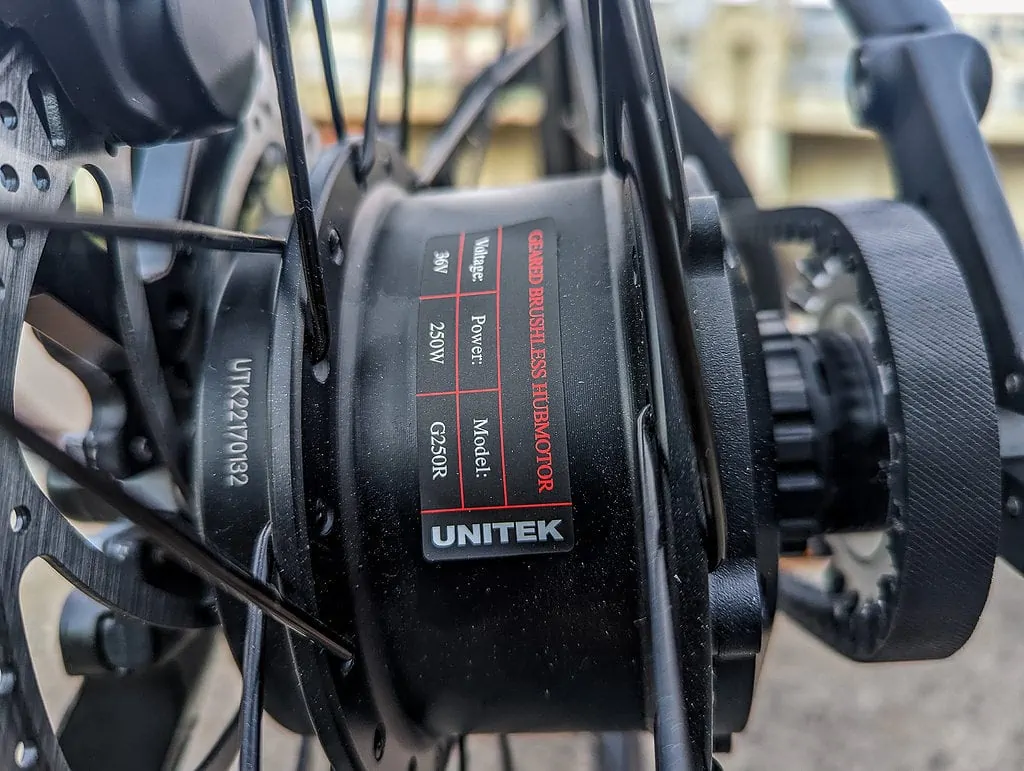 Compared to my existing fixie, the drivetrains are set up to provide more resistance. It often feels like I am spinning my legs, going a lot of flats with my current bike. Therefore, this is more enjoyable to cycle on a flat without assistance.
However, when you hit a hill or go into the wind, that resistance may become too laboursome. Using the assist levels, I can offset this effort and have a sort of electronic gearing, reducing the level of effort. Or, alternatively, if I am feeling tired or lazy, I can just crank up the assist and get to my destination with minimal effort.
The single-gear nature is not perfect, though. If you live in a particularly hilly area, that electronic assist may not counter the increased effort to get up a hill that you want. I tested this up a steep path leading from a lower walkway to the upper promenade, and the bike started to struggle to the point where I nearly had to stand to provide extra power.
Overall, I found that this bike is a pleasure to use, I just love that it feels like a normal bike.  
Battery / Range
Vanpowers claims this has a 50mile/80km range which is quite respectable. I can't say for sure what the range has been for me because I happily ride it without any assistance quite a lot. With a low level of assistance, I would guess that these figures are not far from the truth.
Vanpowers also offers an additional battery that can fit into the bottle cage area and adds 2.5kg to the bike's weight. This is then weird into the battery where the access panel. You use a Y splitter allowing you to plug both batteries into the motor. This is available for pre-order and costs a bit over £250.
This should add an extra 30 miles or 50km of range, giving you 80miles/130km, which is much more than most competing bikes.
Price and Alternative Options
In the UK, the Vanpowers City Vanture has an RRP of £1,427. During the Black Friday period, you could get £200 off using the code BF200.
The Boardman HYB 8.9E is probably the best alternative I have found. This weighs the same but has a Shimano Deore 1X 10-speed drivetrain rather than being belt driven. It is classed as having a range of 25-30 miles (max 60 miles), which is quite a bit less than the Vanpowers. It also costs over £2k, but it comes fully assembled.
The Quella Electric Varsity is a fixe that weighs just 13.9kg with a 60km range (37 miles) and costs just under £2k.
The RAKEDE Boost is an electric fixie that is belt driven, weighs just 15kg and has a range of 40-70km. This is currently priced at around £1400 + shipping. It has wider tyres and also benefits from mudguards.
The Orbea Vibe H30 2022 is another good alternative. It has a Shimano Deore 1X 10-speed drivetrain with 30-80 miles of range. It weighs just 15.1kg and costs £2100
There is the Orbea Vibe H30 EQ 2022, which weighs 18kg and also has the Shimano Deore 1X 10-speed drivetrain with 30-80 miles of range. This costs £2400
Overall
The Vanpowers City Vanture is an outstanding e-bike, and based on my personal requirements, it is by far the best e-bike I have reviewed. So much so this is the bike I will continue to use for my personal bike.
I have struggled to find any other bike at this price point that is anywhere close to 15kg. Even competing fixie e-bikes cost more than this.
Of course, it may not suit everyone. At £1400 and with just a single gear, a lot of people may prefer one of the heavier and cheaper bikes that are out there. The ADO D300C is £200 cheaper and has 10 gears plus front suspension.