Vanpowers UrbanGlide Ultra Review, 2023
by Vanpowers.bike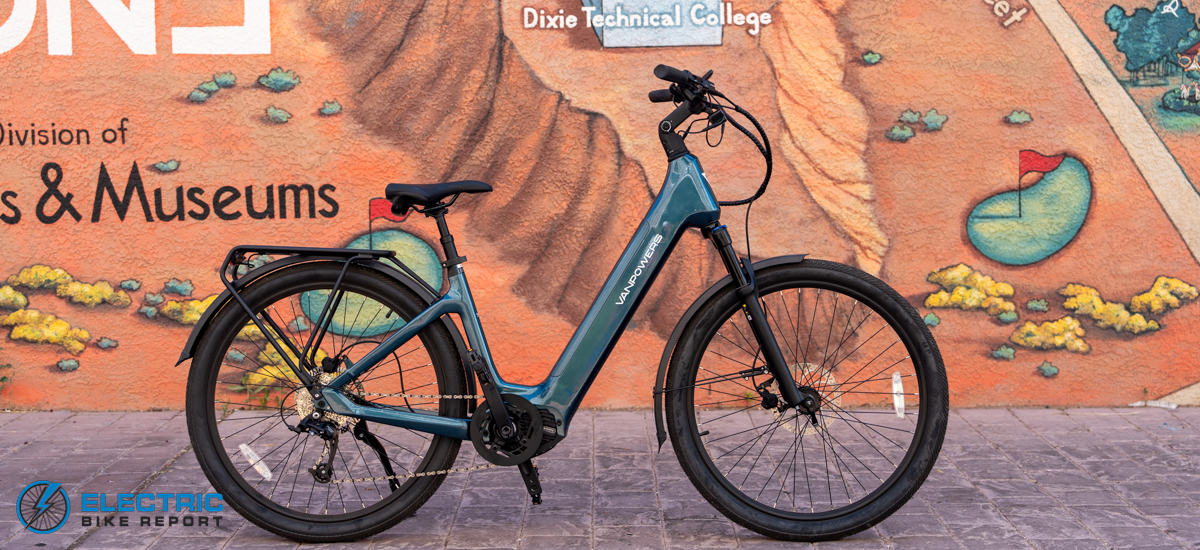 The UrbanGlide Ultra is the top-tier version of the newest commuter e-bike from Vanpowers. This bike was our introduction to the brand, and we were blown away by some of its features and performance. We at
Electric Bike Report
explain our experiences on the bike and its results from our testing in this Vanpowers UrbanGlide Ultra Review!
After unboxing the bike, its Bafang 500W mid-drive motor was the first thing to jump out to us. We quickly learned that it had an unexpected and satisfying amount of power that allowed the bike to get up to speed rapidly and conquer hills with ease. Additionally, where many e-bikes lack an appreciable amount of power in their low-assist settings, the UrbanGlide Ultra's motor gave us plenty even in its first and lowest.
We loved the bike's responsive feel; with a mid-drive motor and a torque sensor, it feels incredibly similar to a non-electric bike – just better! The motor responded immediately to the intensity of our pedaling, which gave us the power to overtake other cyclists, gain momentum before hills, or simply reach top speed quickly.
Additionally, the UrbanGlide Ultra had an uncommon level of comfort with its Suntour suspension fork and Zoom suspension seatpost. Its ergonomic design and adjustable stem allowed us to get a (near) perfect fit, and we found it supremely comfortable even on longer rides.
Read our full Vanpowers UrbanGlide Ultra review below for more information on this awesome urban machine!
CLASS 1 E-BIKE:
PEDAL ASSIST UP TO 20 MPH
PROS
A responsive and natural ride! The bike uses a torque sensor to deliver assistance immediately in proportion to the rider's level of effort.
Awesome acceleration and hill-climbing ability! A Bafang 500W mid-drive motor designed for eMTB and cargo bike use packs a serious punch.
A supremely comfortable ride! The UrbanGlide Ultra has great ergonomics and both a suspension seatpost and suspension fork to soak up bumps.
Easily mount and dismount the bike with an accessible step-thru frame! This makes the bike perfect for commuters in business attire.
Solid range with a 48V, 690 Wh battery. We measured between roughly 37 and 51 miles in our Range Tests.
Good stopping power with Tektro hydraulic disc brakes.
Great rider fit customization! The bike comes in two frame sizes, each with an adjustable stem with 90 degrees of adjustment.
The UrbanGlide comes in three trim options to fit your needs and budget.
CONS
We thoroughly enjoyed the motor's power, quick engagement, and acceleration, but we'd love to see a throttle included in the future.
While we appreciate the basic commuter features like the cargo rack, fenders, and lights, we'd also like to see a brake light for safety when riding alongside traffic.
ELECTRICAL SPECS & FEATURES
Battery :

 

48V, 690 Wh with LG cells, UL certified
Display:

 

Color LCD
Motor:

 

Bafang M600 48V, 500W mid-drive motor
Headlight:

 

Included
Taillights:

 

Included
Pedal Assist:

 

PAS 0-5
Range:

 

65-70 miles (claimed)
Throttle:Not Included
App:Vanpowers App
WEIGHT & DIMENSIONS
Claimed weight:

 

70.6 lbs
Rider heights:

 

5'-1" to 5'-9" (S) / 5'-7" to 6'-3" (L)
Maximum rider weight:

 

330 lbs
Maximum load on the rear rack:

 

55 lbs
COMPONENTS & ACCESSORIES
Brakes:

 

Tektro E350 hydraulic disc brakes w/ 180 mm rotors
Fenders:

 

Front and rear included
Fork:

 

Zoom 862 air fork w/ hydraulic lockout
Frame:

 

6061 Aluminum
Drivetrain:

 

9-speed Microshift w/ 40T chainring and 12-36T cassette
Grips:

 

Ergonomic rubber
Saddle:

 

Velo saddle
Seatpost:

 

Zoom suspension seat post w/ 30 mm travel
Stem:

 

Zoom adjustable stem, 90 mm, 0-90 degree
Handlebar:

 

710 mm
Kickstand:

 

Included
Pedals:

 

Gineyea pedals
Tires:

 

Kenda 27.5×2.20"
Vanpowers UrbanGlide Ultra Review: Speed Test
In our Speed Test, I pedaled the UrbanGlide Ultra along a predetermined course on our local bike paths to determine how fast the bike could go in each of its pedal assist settings. There is a caveat: since it uses a 500W mid-drive motor with a torque sensor, the bike's speeds are not capped except at the Class 2 limit of 20 mph. it is possible to approach or even reach that limit with the bike in its lowest pedal assist setting with forceful pedaling.
I measured 11.8 miles per hour with no motor assistance; with a weight of about 71 lbs, the bike pedals well with leg power alone. In PAS 1, the motor engaged immediately and adapted to my effort level almost instantaneously, providing a welcome boost of power. I reached 14.2 mph with casual pedaling, which I maintained throughout the rest of the test. PAS 2 brought me to 15.9 miles per hour, PAS 3 allowed me to hit 18.3 mph, PAS 4 easily reached 19 miles per hour, and then the motor assistance in PAS 5 topped off at 20.
These speeds are reflected in the graphic above, but once again, the fact that a torque sensor is involved means that the bike adapts to its rider. Each of our reviewers could test the UrbanGlide Ultra and would likely measure unique results displaying a different pattern. In my opinion, the key thing to keep in mind with this bike is that it simply feels powerful and responsive, providing a fun and natural feeling experience.
The bike's 48V, 500W motor is relatively unique for a commuter e-bike – in fact, it was designed with electric mountain bikes (eMTBs) and e-cargo bikes in mind. As such, it has more power and punch than we commonly encounter on bikes of this style; many similar e-bikes use 250W or 350W mid-drives instead. The increased nominal wattage means that the UrbanGlide Ultra can accelerate quickly and make pedaling incredibly easy.
Vanpowers UrbanGlide Ultra Review: Range Test
Our Range Test allowed us to evaluate how far the Vanpowers UrbanGlide Ultra could travel on a single charge of its 690 watt-hour (Wh) battery using the process described in the graphic above. We measured the bike in both PAS 1 and PAS 5 to determine a maximum and minimum bracket, which we determined to be between 41.9 and 51.2 miles.
Vanpowers advertises a range of up to 70 miles with the bike, which differs fairly significantly from our results in PAS 1. The bracket we measured does, however, line up well with the results of similar e-bikes we have tested previously.
The torque sensor on the UrbanGlide is likely a contributing factor to the difference, as it delivers more power to riders who pedal harder – thereby consuming more charge from the battery. It is entirely possible that riders who pedal lighter than our tester would be able to achieve results with greater distance.
The result we measured in PAS 5 (where the UrbanGlide was using significantly more power) was surprisingly better than on many of the similar e-bikes we have tested – some of which had batteries with greater capacity. This suggests that the UrbanGlide Ultra's motor and battery are efficient, a thought that is further supported by our data.
As explained in our guide to e-bike batteries, there is a relationship between the nominal wattage of an e-bike's motor and the watt-hour rating of its battery. With its 500W motor and 690Wh battery, we expected the UrbanGlide Ultra to travel for roughly an hour and a half in PAS 5 and cover roughly 26 miles. We were pleased by the bike's ability to keep us on the move for over 40 miles as we traveled for an additional hour.
With these factors in mind, we're ultimately quite pleased with the UrbanGlide Ultra's range potential. Our results were respectable and it's possible that some riders may be able to squeeze even more miles out of the battery.
Vanpowers UrbanGlide Ultra Review: Hill Test
We evaluated the Vanpowers UrbanGlide Ultra's ability to handle extreme uphill climbs using the process described in the graphic above. With no throttle, we performed just a single test in PAS 5 and achieved great results! We measured a time of 1 minute and 28 seconds from the beginning of the trail to the top of the hill, with an average speed of 12.3 miles per hour.
This is one of the faster times we've seen from an e-bike with a 500W mid-drive motor; it handled the steepest sections of our test hill with confidence and required only a casual but steady degree of pedaling. The bike felt fun and smooth when pedaling uphill despite the extreme nature of the path.
The UrbanGlide's success at Hell Hole and its great ride feel are the results of its powerful motor; with a maximum potential peak output of 864 watts and a whopping 120 Newton-meters (Nm) of torque, it's no surprise that this motor was designed for eMTBs and cargo bikes!
Personally, I was thrilled to see such an aggressive motor on the UrbanGlide Ultra; it was a refreshing change of pace that allowed the bike's feel to match its name. When testing this bike on less-challenging hills, pedaling was an absolute breeze, and I barely even noticed I was no longer riding on flat ground.
Vanpowers UrbanGlide Ultra Review: Brake Test

We tested the brake system on the Vanpowers UrbanGlide through the process described above. It uses a hydraulic disc brake system that we are extremely familiar with – the Tektro E350 system which is rated for e-bike use. This system uses 2-piston calipers and 180 mm rotors, and has typically performed very well.
The UrbanGlide was incredibly consistent across each of our three tests, with only about an inch of difference between each result. When we averaged our results, the bike had an average stopping distance of 22'-11".
If we compare this result across the other commuter-style e-bikes we've tested, the UrbanGlide Ultra's performance was slightly longer than average; the commuter category currently has a running average of 21'-8".
With just over a foot of difference, we still consider the UrbanGlide's performance to be well within our range of expected results. As a hydraulic system with 180mm rotors, the Tektro E350 model has the responsiveness and overall stopping power appropriate for a Class 2 e-bike weighing roughly 71 lbs. The goal of our Brake Test is to ensure safety, and we are happy to report that the bike's Tektro system meets this criteria.
In terms of braking feel, the UrbanGlide maintained excellent stability with its 2.2"-wide tires. The brakes themselves had plenty of bite, and I was pleased by their ability to slow the bike quickly. This came into play on a number of occasions when lizards attempted kamikaze runs across the path during my testing! Fortunately, no animals were harmed in the testing of this bike.
Vanpowers UrbanGlide Ultra Review: Ride Quality
I'll cut to the chase in this section; the Vanpowers UrbanGlide Ultra was simply a supremely comfortable and fun bike to ride!
The responsiveness and power of its motor – due to the bike's torque sensor – were as much a highlight as the ride smoothness resulting from the Zoom suspension fork and suspension seatpost. The bike's wide, ergonomically-swept-back handlebars provided additional comfort but also excellent control for predictable handling; I liked that these were not too extreme in their shape.
I even appreciated tiny details like the ergonomic rubber grips, which had a unique shape and the right amount of squish – and also included a textured area on the back side right where my fingertips fell. This offered extra grip and a different tactile experience.
The UrbanGlide Ultra fits its role well as a commuter, and offers many points of adjustment to ensure a proper and comfortable match with its rider. With two frame sizes, the bike accommodates riders between 5'-1" and 6'-3". Our test bike was a Small, which I am technically 2" too tall for, but regardless, I was able to find a comfortable fit without the need to raise the stem to a completely vertical position.
In addition to adapting the bike's fit, its adjustable stem also allows riders to change their riding position; those wanting an upright Dutch-style feel will be accommodated just as much as riders who prefer a more forward lean.
Accessibility is a key factor here as well; the bike is only available with a step-thru frame style. This design allows for easy mounting and dismounting with just a small lifting of a leg instead of the broad up-and-over required with a high-step. The UrbanGlide's standover height of roughly 15" is certainly on the lower side.
The bike's cockpit was well-done; its unique color display was large and well-organized. Its control panel was small but effective, and even the specific model of the bike's rapid-fire shifter was one of my personal favorites. The UrbanGlide pairs with the Vanpowers app as well, which can be used as an alternate way to adjust the bike's PAS. It also provides navigation, which I found to be its most useful feature.
As a commuter e-bike, the UrbanGlide offers many expected features and accessories, but I couldn't help but feel that a couple of elements were missing. First, in terms of safety; with an electrical system and lights already included, I was surprised to see that the taillight on our test bike did not function as a brake light. In my mind, this is essential when riding anywhere near traffic. The bike's webpage states that its taillight should include brake light functionality, and after reaching out to the brand regarding the discrepancy, they reinforced this – so I am hopeful that those on production models do.
Second, while throttles are less common in conjunction with mid-drive motors, I'd prefer to see one on the UrbanGlide; this would allow riders to take a break from pedaling and get started from a complete stop more easily. That said, it was still nice to see fenders, lights, and a cargo rack on the bike!
Vanpowers UrbanGlide Ultra Review: Summary / Where to Buy
When considering our experiences on the bike – including its test performance – the Vanpowers UrbanGlide Ultra proved to be an impressive commuter! Its speed, power, comfort level, and handling were all top-notch; those elements combined to create a surprisingly fun and capable machine.
Truthfully, this was one of those bikes that we found difficult to critique. The two flaws we found are minor, but they are honest and relevant for a commuter. Most of the other commuter e-bikes we've tested have included both brake lights and throttles; these are appreciated features that increase safety, visibility, and overall functionality. We'd like to see Vanpowers include both on the UrbanGlide Ultra in the future.
Otherwise, we think riders seeking a great all-around e-bike with daily-use potential will likely enjoy the same highlights that stood out to us. The UrbanGlide Ultra is a well-specced, solidly-performing, and good-looking e-bike with a cool and fitting name. We highly recommend it!
Happy Riding! Make sure to let us know if you have any questions down in our comments section or if you think we left anything out in this review of the Vanpowers UrbanGlide Ultra.
*The article comes from:
https://electricbikereport.com/vanpowers-urbanglide-ultra-review/
Use left/right arrows to navigate the slideshow or swipe left/right if using a mobile device