Vanpowers UrbanGlide-Pro E-Bike Review: Outstanding Comfort and Range
It is easy to understand why RVers have embraced e-bikes with such enthusiasm. Not only do they provide an excellent means of transportation, but they also help to keep us fit and active while traveling, too. And because they make riding more fun and approachable,  allowing all types of riders to hit the road in comfort and style.
That seems to be the approach that e-bike manufacturer Vanpowers has taken with its latest offering, the UrbanGlide series. This model is designed for casual riders, although seasoned cyclists will find lots to love, too. It delivers all of the features you would expect in a modern e-bike in a comfortable and affordable package. This makes it an excellent option for cruising around the campsite or venturing further out to explore a new destination.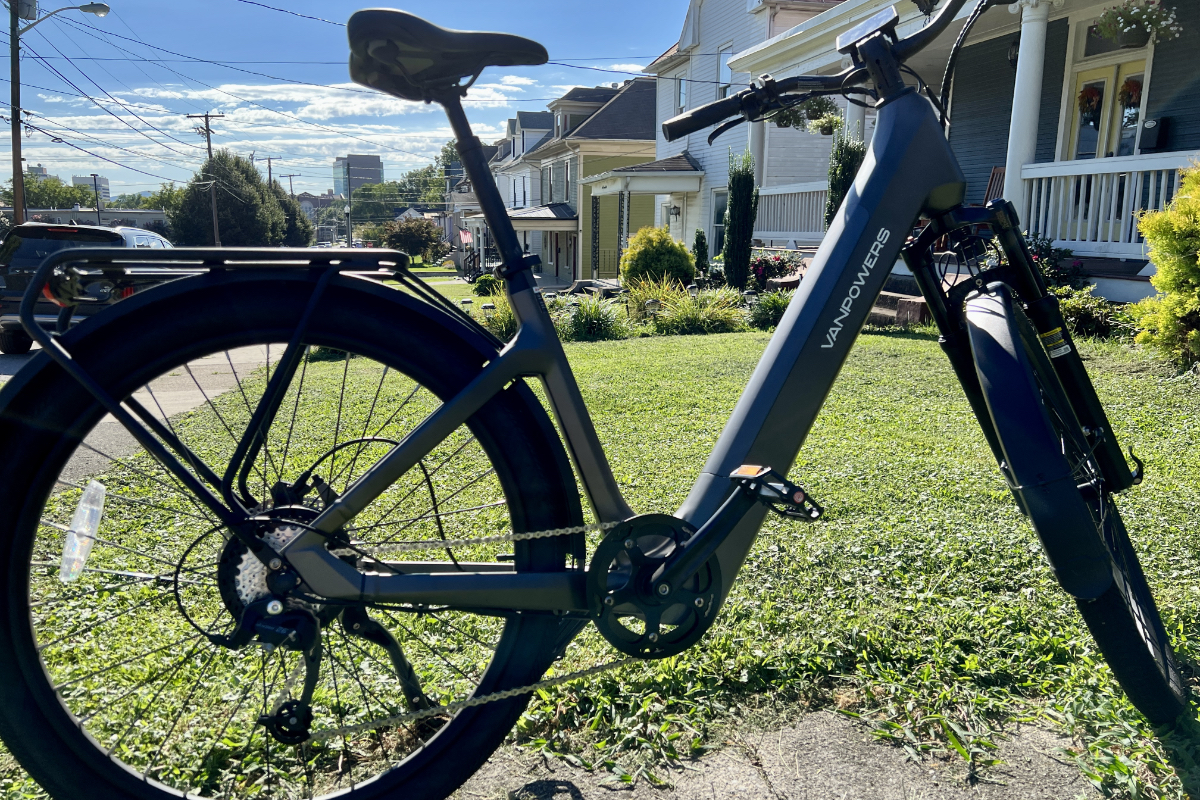 An Urban Cruiser
The UrbanGlide comes in three models, which are distinguished by their price points and slightly different feature sets. The entry-model UrbanGlide-Standard offers plenty of power and range but is only available in a small frame suitable for riders under 5'9" in height. The mid-range UrbanGlide-Pro offers two frame sizes to accommodate taller riders and comes with a few component upgrades as well. Those include hydraulic disc brakes (vs. mechanical) and an 8-speed crankset, as opposed to the 7-speed version on the Standard. Finally, the UrbanGlide-Ultra comes with an upgraded motor, along with better brakes and nine gears. The models are priced at $1,299, $1,899, and $2,499, respectively.
Recently, Vanpowers shared an UrbanGlide-Pro with RV.com so we could put the bike through its paces. It proved to be a full-featured model that should appeal to a wide range of riders, including first-time e-bike owners. It comes with a 690WH removable battery pack that works in conjunction with a 500W brushless rear-hub motor to give the bike a range of up to 70 miles on a single charge. The bike also has a hydraulic suspension and well-padded seating, making extended rides very comfortable.
Other notable features include front and rear lights, a built-in digital screen that serves as an odometer/speedometer, and a rear-mounted rack rated to carry up to 55 pounds of cargo. The bike has a step-through frame that makes getting on and off very easy, and both the seat and handlebars are highly adjustable to find the most comfortable position. It even connects with the rider's smartphone to track the metrics of every ride and monitor the overall health of the bike.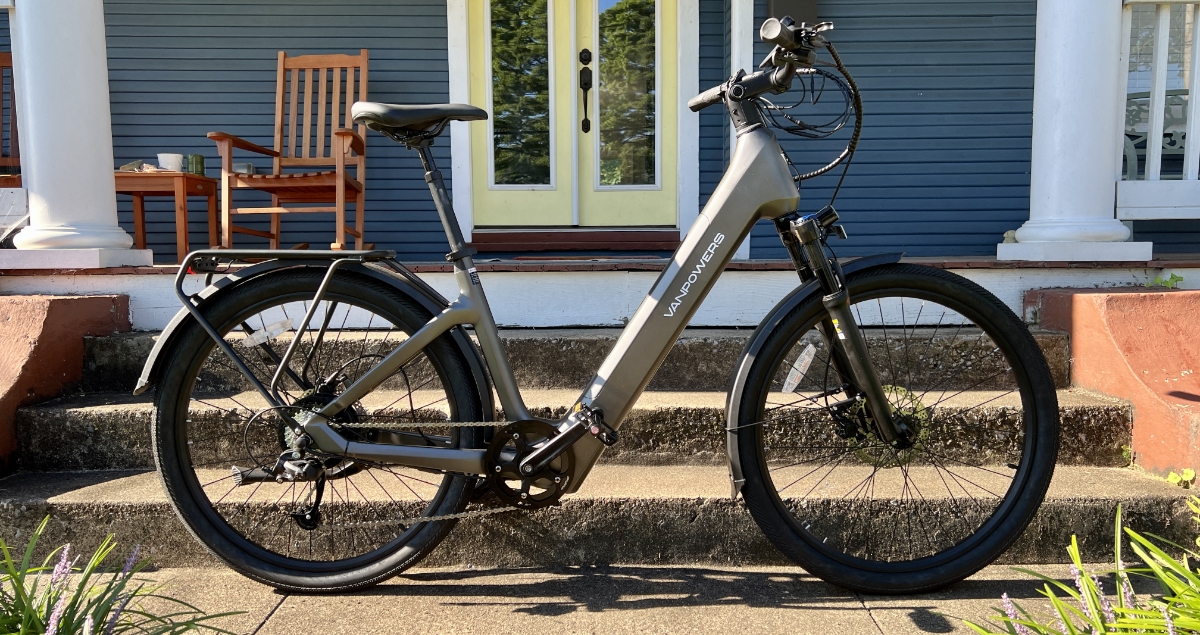 Some Assembly Required
Vanpowers ships the UrbanGlide in a single large box, with the bike arriving in a semi-assembled state. New owners will have to connect the handlebars and attach the front light, along with the digital display, horn, and front fender. They'll also need to install the front tire and add the pedals, all of which are pretty simple thanks to a good set of instructions included in the bike's owner's manual. All the tools needed to complete the process also come in the box.
As someone who has put together a few bikes over the years, it took about 45 minutes to get the UrbanGlide ready to ride. That included a few short test runs to adjust the angle of the display and handlebars to meet my specific needs. The seat uses a traditional quick-release mechanism that makes it easy to adjust as needed. This is especially handy if multiple riders of different heights share the bike.
Even if you've never assembled a bike before, Vanpowers makes the process as simple as possible. Everything is neatly labeled, and the instructions are clear and easy to follow. It may take a bit longer to complete the initial set-up, but you'll be on your first ride in no time. Just be sure all of the components are locked tightly in place before setting out.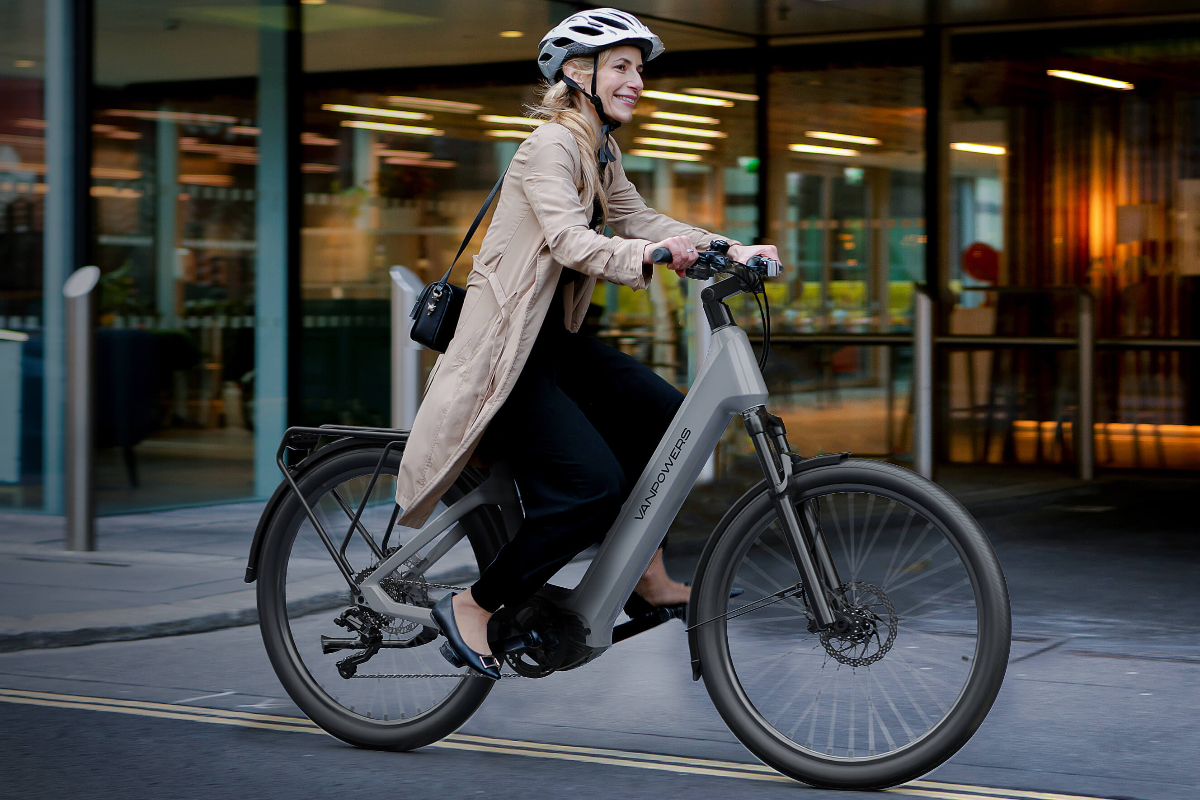 Stylish and Comfortable
After a few short jaunts to test that everything was in working order, we set out on a long ride to really put the UrbanGlide through its paces. That trip was a mix of city streets and paved greenways that were perfect for getting a sense of comfort and handling. For the most part, we found the e-bike a joy to ride for both laidback cruising and getting some exercise. As with any electric model, you can dial in exactly how much or little work you want to do. That level of versatility is much appreciated and is why so many people are flocking to e-bikes in the first place.
True to its name, the UrbanGlide rolls along very smoothly. Its wide tires navigate bumps and cracks with ease, keeping the bike stable and responsive at all times. The hydraulic suspension system also reduces jostling, keeping the rider comfortable while reducing fatigue. The plush seat also helps in that department, providing enough support that you won't need to invest in a pair of tight-fitting, padded bike shorts to enjoy the ride.
There are a number of other small touches that also improve the riding experience. For instance, the UrbanGlide's step-through frame eliminates the need for riders to awkwardly throw a leg over the bike to get on or off. The electric drive is relatively quiet, too, which is nice when enjoying a relaxed outing. The rear cargo rack also comes in handy for when you want to run errands or bring a picnic lunch along for the ride. It is also the best place to stash a water bottle, as there isn't a bottle cage in the traditioanl location on the down tube.


Performance
Vanpowers says the UrbanGlide can ride up to 70 miles on a single charge. During our testing, we averaged closer to 50-55 miles, but as is typical with any e-bike, the range is impacted by the weight of the rider, the terrain being ridden, and how much pedal assist is used. In our case, we frequently rode up fairly steep hills, which required extra help from the bike. I'm also a larger-than-average cyclist, so the real-world range was inside our expected numbers.
The UrbanGlide's motor is surprisingly responsive, with very little lag. That means when you start pedaling, the electric-assist kicks in almost immediately. The drive system offers five levels of assistance, each providing a bit of extra push. Personally, I found the level 1 setting to be more than adequate to easily maintain a speed of 18-20 mph when cruising along flat roads and trails. But because the bike weighs 70 pounds, the extra assist modes came in handy when climbing hills or passing slower riders.
Just like a traditional bike, the UrbanGlide's mechanical gears can also be used to change how easy or challenging it is to pedal. Our model has eight speeds to choose from, but I typically found myself using only the highest gear unless I was riding up a slope. By shifting into a lower gear, a rider can reduce their reliance on pedal assist, getting a more relaxed ride and potentially conserving some battery power as a result. Conversely, if you don't feel like pedaling at all, the bike has a thumb throttle that can propel it along without any effort at all.


A Few Nits to Pick
In case it wasn't already clear, we thoroughly enjoy riding the UrbanGlide. It is fun, fast, and comfortable, with settings and features that will appeal to almost any rider. But that isn't to say we didn't have a few issues with the bike. For instance, while we generally love the LCD screen, we found it nearly impossible to read while wearing polarized sunglasses. This made it very hard to tell which pedal assist level we were currently using or how much power remained in the battery. We even had to strain just to see our current speed, which is displayed in large numbers at the center of the screen. The issue was easily rectified by removing our sunglasses, but that wasn't a great option while moving at a brisk pace on a bright summer day.
We also had issues with the UrbanGlide's rear brakes. While they did work, they didn't provide the same stopping power as the front brake. Pulling on the handle gave us a slightly squishy feel, which is often indicative of the brake lines needing to be bled of excess air. A bike mechanic can handle this fix fairly quickly and easily, but it was a little disconcerting out of the box.
Another minor nitpick is how far the rider has to reach to access the controls for adjusting the pedal assist. Even with large hands, it was quite a stretch to get to the buttons, often requiring us to take our eyes off the road to turn the setting up or down. Even turning the bike on can sometimes be a hassle, requiring a key to remove the battery to access a hidden power button.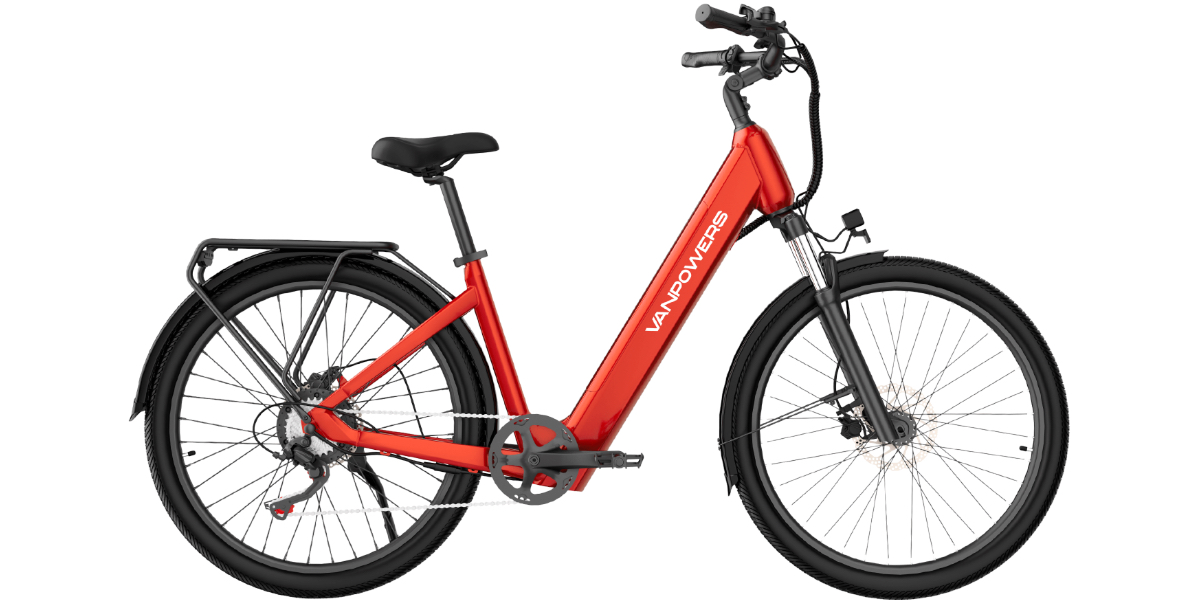 An Easy Rider
Those relatively minor quibbles aside, there is a lot to like about the UrbanGlide. It is a full-featured e-bike with good range, plenty of power, and a quality set of components. Riding is also very comfortable and fun, even for extended periods. All of this makes it a very approachable option for experienced and new riders alike. It also makes it very easy to recommend, especially for first-time e-bike owners.
As mentioned, the mid-range UrbanGlide-Pro is priced at $1899. With its combination of battery, motor, and other components, Vanpowers delivers good value at that price point. This is a bike that is very easy to own and ride, with solid performance in terms of range and power. That makes it ideal for cruising around the campground, a destination you're visiting, or just the neighborhood back home. What else could you ask for from an e-bike?

*The article comes from:https://www.rv.com/gear-accessories/vanpowers-urbanglide-pro-e-bike-review-outstanding-comfort-and-range/