Vanpowers City Vanture e-bike review: Sleek, streamlined, and hard to define
There aren't many e-bikes like it—partly because you can build it yourself.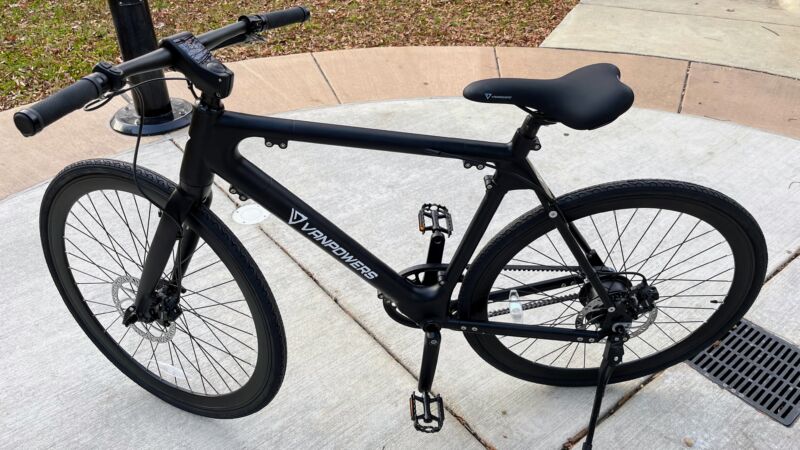 A "city" bike could mean many different things. It could be cheap, so there's less angst when it is almost inevitably stolen. It might be simple, with fewer gears and add-ons because the commutes are short and relatively flat. Or perhaps it's a lighter bike, one more easily hauled onto a curb or up a flight of apartment or office stairs.
Vanpowers' City Vanture is cheap and light only compared to other e-bikes (fully assembled, it costs $1,750), but its belt drive, internal hub, and five-level assist make it somewhat simple. It's also limited by a lack of accessory mounts and a gearing and motor setup that makes it more difficult to start and stop often in traffic or climb steep hills. For the right kind of rider, it could be a good pick. But you'll want to look closely at the City Vanture before choosing it for your urban or trail commute.
Oh, and you can build it yourself if you want to save a few bucks. This bike is a collection of interlocking tubes held together by mortise-and-tenon construction and bolt collars. You put the tubes together, run the cables through them, bolt everything else on, and put the wheels in place. More on that in a bit.
| | |
| --- | --- |
|   | |
| | The handlebar display on the City Vanture, showing battery level, speed, mileage (trip and total), and power level (with a tiny bit of LCARS style). |
| | The higher/lower controls on the left handlebar for adjusting motor assist. |
| | The City Vanture's chainring, just with a belt instead of a chain. |
| | The rear hub of the City Vanture. If you buy the DIY version, you're lining all this up yourself. |
| | Pedal on the City Vanture. |
| | Handlebar detail on the City Vanture. |
The bike
The City Vanture comes in one size, a 21-inch (53 cm) step-over frame that weighs 34 pounds. The "ideal rider height" is between 5 feet, 8 inches and 6 feet, 3 inches. Ars Science Editor John Timmer is 6-foot-2 and found the Vanture undersized for his long-legged build. "My knees feel like they're up to my ears," Timmer said after a casual 15-minute ride. I'm 6-foot-2 as well and felt the ride in my shoulders and core muscles more than on bikes better fit to my height. Your body-proportion experience will vary, but I'd be cautious if you're tall. (You can get more specs on the Geometry section of the product page). A Vanpowers representative said the company is working to offer more model sizes in the future.
You get just two major options when buying the City Vanture: color and whether you want to assemble the bike yourself to save $90 or have it shipped mostly pre-assembled. I went the DIY route. Your color choices are the relatively staid "Infinite Silver" and "Shining Black," the two-toned "Chalk Blue" and "Ruby," and the spot-it-a-mile-away purple/pink/aqua/seaweed "Neon Purple."
Your only other option is adding accessories—a custom rear rack, a frame bag, an anti-theft horn, and an additional range-extending water bottle-style battery. If you were considering a rear rack for this bike, you should buy it from Vanpowers. Because of how the bike is assembled and its lack of traditional mounting points for accessories (it doesn't even have bottle cage bolts), I'm not confident that third-party racks would match the bolt size and placement of the City Vanture. There's also very little clearance above either tire, and Vanpowers doesn't offer its own fenders. Lights are whatever you can strap on.
The bike that arrives (or is eventually built) has a motor rated at 36 volts and 350 watts and a 252-watt-hour non-removable battery made from LG cells. Both are controlled by three buttons near the left handle and a waterproof display mounted between the headtube and handlebars. Vanpowers lists the top assist speed as 25 miles per hour and the standard range as 50 miles (80 kilometers), or 80 miles/130 kilometers with the bottle battery. Those numbers seem accurate; I clocked 44 miles before the display showed one or two bars left out of five, alternating between low and heavy power assist.
The motor runs on a cadence sensor, activating when your pedal cranks start turning rather than generating force. That choice, paired with the gearing of the combination hub/motor, is my major complaint about this bike. More on that in a bit.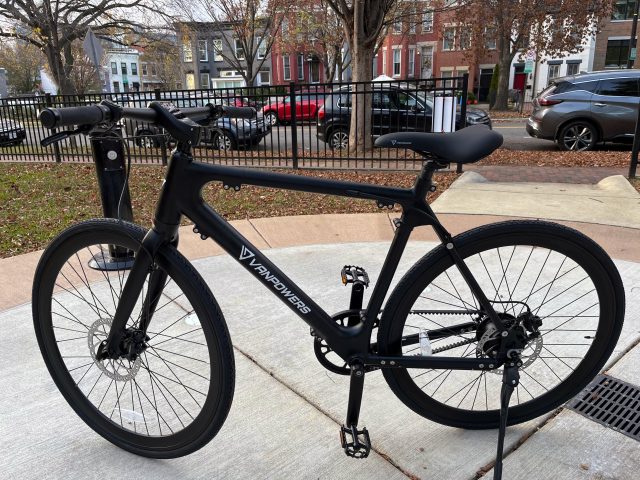 The ride
There is no throttle on the City Vanture, no gears to shift, and hardly any settings or options to set. There are just pedals, an odometer, and handlebar buttons to switch between assist levels one through five: Eco, Normal, Tour, Power, and Boost (plus "off").
Unlike the power levels, the gearing on this bike does not change. At 63 teeth on the front chainring and 22 on the back/internal gear, it would have a 2.86 gearing ratio if it were a traditional chain-and-teeth setup. That's on the harder side of a road bike's typical gear set, and it's quite hard on the mountain bike scale. A carbon belt-driven cassette and sprocket are not the same as a chainring and may be more efficient (if only slightly). Regardless, this bike demands more torque to get moving than a typical non-electric single-speed or any belt-drive with gears. A point of comparison is my all-purpose 2018 Norco Indie IGH A8; it's geared 50-to-24 (2.04) and has eight gears, and my 200-pound self can move it from a dead stop with less effort than the City Vanture requires.
So it seems the City Vanture is not meant to be ridden much without at least some power assist activated. Even with the assist activated, it takes a moment for the sensor to register that you've started moving the pedals, and then the motor starts working. On e-bikes with a throttle, a torque sensor, or simply gears, this isn't a big issue. On the City Vanture, you have to put in some work before the bike helps you out.
Once, climbing the notably steep hill around the north side of the US Capitol, the City Vanture's motor quit on me. I started the climb with two of five battery bars lit up after a long ride, but as I rode, the readout dropped to one bar, and then none. I stopped and walked the bike up the last stretch; the battery level and assist returned. Vanpowers told me that motor performance is "sometimes affected by road conditions, wind, [and] rider weight" and that the "assist capability of a single-speed bike will vary in a particularly hilly area." I didn't experience this issue when climbing softer hills with more battery power.
When the bike is moving along, it's a fun ride. On relatively flat roads and with the assist set to level 3–5, the City Vanture feels like the kind of commute machine that e-bike enthusiasts have been pitching for a while: It's faster and easier to ride, while still providing a bit of exercise. Riding the City Vanture on the protected bike lane of Pennsylvania Avenue in Northwest Washington, DC, I felt its value. You're never starting or cruising quite as fast as you would on a throttle-controlled e-bike—in most of my rides on this bike, I rarely went above 18 mph—but you don't have to think about much while riding. You click the up button for more assist, down for less, and you just ride. I have no complaints about the (Tektro) hydraulic disc brakes, the wheels or tires, the handlebars, or most of the typical components. The bike looks, feels, and rides like a reliable single-speed, apart from its drivetrain differences.
I took the City Vanture on some 5-mile city rides, as well as a few longer rides, both on trails and on a ride for a fallen cyclist, from a Maryland suburb back to DC. I received several compliments on the City Vanture on that ride. A half-dozen riders told me, unprompted, that my bike looked sleek, that they wouldn't have guessed it was an e-bike, and that they admired the built-in display. When the ride was moving along, I barely felt like I was pedaling. E-bikes are typically quiet, but the City Vanture is even more so because of its belt drive.
The City Vanture looks the least "e" of any e-bikes I've seen. You charge its internal battery through a port on the bike's top tube, though you can't remove it (not without a full dismantling, at least). The mostly internal-routed cables don't betray much. Unless someone searches "Vanpowers" or takes a closer look at the rear wheel, it's not easy to identify it as an electric bike. It's not, however, so modern, sleek, and electric-oriented as to look like a Van Moof. That discrete aesthetic may be attractive to certain riders.
Building the City Vanture
I'm handy with bike building and repair, so I asked Vanpowers to ship me the "assemble yourself" version of the City Vanture. The manual has some confusing bits. Crucially, it repeatedly demands that you use a torque wrench (one in the 0–60 nm range) to tighten each bolt for proper safety while also providing hand-turned hex wrenches for each step. It feels like a knowing wink–or simply a bit of legal cover. (Vanpowers wrote, "The hex wrench issue is [one] we are trying to solve" when I asked about this).
It took me about four hours to build the City Vanture across three nights. I could have saved myself at least 30 minutes if I had installed the belt loop correctly the first time, in the tricky inside/outside way it must run around the chainstay. I also didn't trust how tight everything in the front headset/fork assembly fit together, so I reassembled it, only to have the result be about the same. I stripped two screws on the bike frame, as I tried to stick to the specified torque settings but only had a too-large half-inch-drive wrench and 3/8 converters on hand. And the rear disc brake, which you mount yourself, required some light adjustments to keep it from rubbing.
| | |
| --- | --- |
|   | A view of the parts you'll assemble to build the City Vanture. |
| | Cork the cat examines the work so far, with the frame's core triangle built. |
| | Up-close look at the City Vanture's parts coming together in what Vanpowers describes as an ancient mortise and tenon structure. |
| | About an hour and a half in, I had this much bike. |
| | Using a 1/2-inch torque wrench with a 3/8-inch adapter to try to comply with the manual's tightening specifications. |
It's a rare kind of nervous joy, stepping onto a pile of parts you willed into the shape of a bike. But dozens of miles later, my City Vanture worked fine and felt solid. The only adjustments I've had to make are to the seat angle and seat post; I dropped a little oil on each to eliminate a small squeak and ease the adjustment. The $90 savings for the DIY model is worth it to me as someone who finds mechanical bike work a relaxing escape from computer-based work, but most people will prefer paying full price to get riding sooner.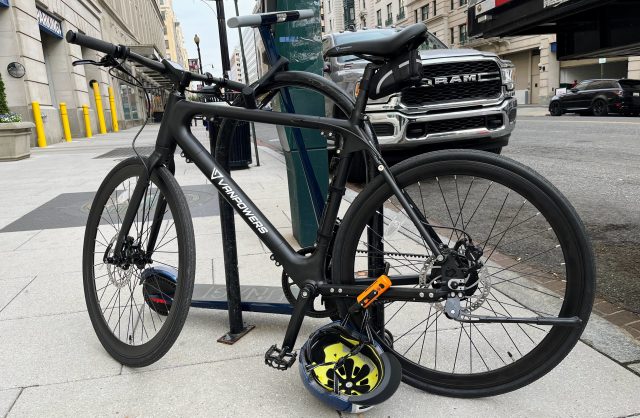 Who is the ideal City Vanture rider?
The City Vanture seems best for someone who:
Is between 5-foot-8 and 6 feet tall
Rides primarily on flatter city streets or non-treacherous trails, ideally with long stretches between stops
Has the leg power to start from a dead stop on tougher gear
Doesn't want or need cargo space, fenders, or built-in lights
Prefers a low-maintenance belt and internal hub to replaceable chains and cassettes
Values a sleek, highly discrete e-bike look
Can store the bike in a place where it can also be charged
Wants a (relatively) lighter, full-size e-bike that can occasionally be hauled up some stairs
At $1,750 for the fully assembled bike, the City Vanture is one of the more affordable (if not exactly "budget") e-bikes we've tested, especially among non-cargo-minded models. But most other e-bikes with the same traditional bike style come with far more versatility in gears, accessories (both before and after ordering), sizes, charging options, and climbing power. You're paying for a heavily streamlined, low-maintenance, good-looking bike that weighs less (10–15 pounds) than most.
If all you need from your bike is that it be faster and easier to ride, the City Vanture might work for you. But it turns out there's a lot of nuance in what makes for a good "city" bike.
Listing image by Kevin Purdy
 Facebook: @Vanpowers_bike 
YouTube: VanpowersBike 
Reddit: Vanpowers_bike 
Twitter: @Vanpowers.bike 
Instagram: @vanpowers.bikes 
SOURCE:https://arstechnica.com/